Bees colour & count activity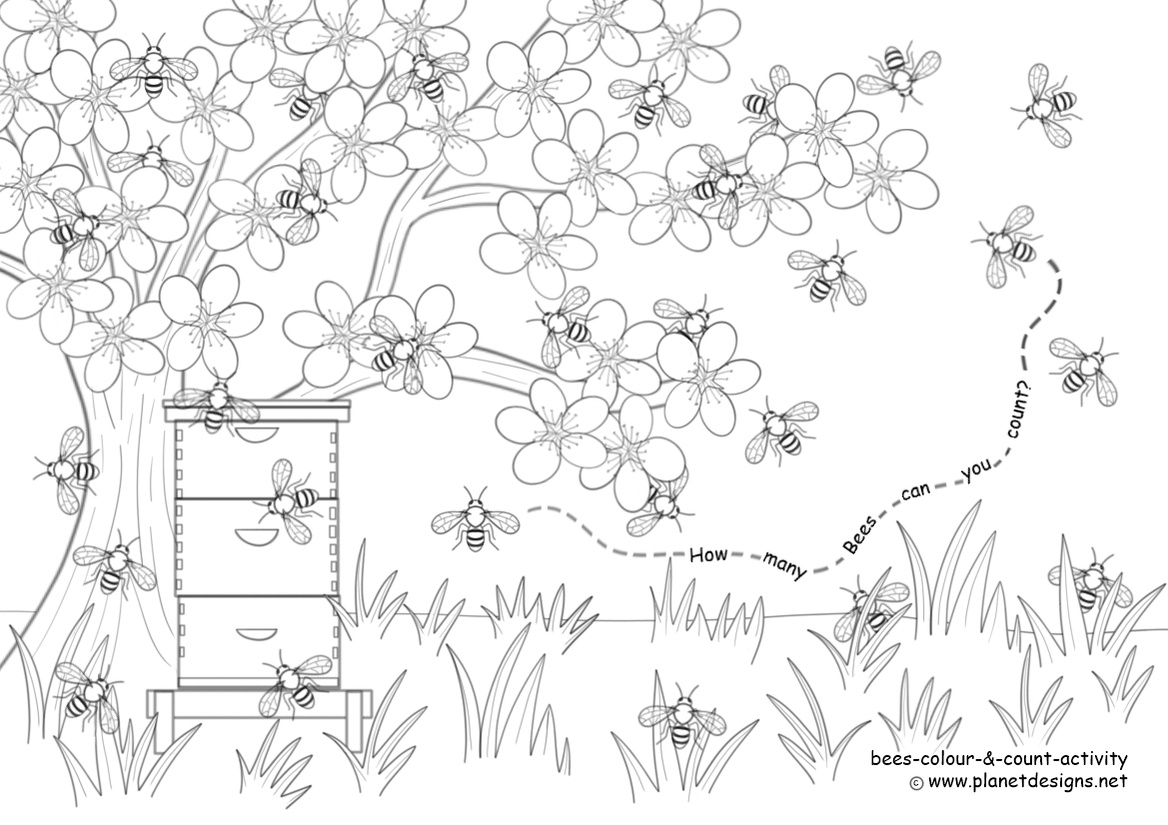 In May we celebrate World Bee Day!
A day for the world to pause and think about the huge role this little insect plays in our ecosystem and how we can help it thrive and survive. To bring awareness to how bees are important pollinators of our world's food crops, our colouring activity has a flowering Almond tree with a beehive under it and many bees flying around the picture for kids to colour and count.
Click the link to download this colouring activity from Planet Designs Kids Planet Designs Kids Free Downloads on our website.
What do bees do?
Bees pollinate wild flowering plants around the world
Bees pollinate Food Crops around the world
Bees pollinate Agricultural Land around the world
Bees make products we use such as Honey and Beeswax
What can we do to help bees?
Plant some flowers or flowering shrubs for bees to feed from that flower at different times of the year.
Put in a bird bath or shallow water bowl in the garden for the bees to drink from.
Avoid using pesticides in our gardens.
Help decrease air pollution by walking instead of driving the kids in the car.
Here are some idea's on how to extend this colouring activity further:
Count how many flowers, tufts of grass and Beehive boxes there are in our colouring activity.
Go outside and count how many bees you can find.
Do a science activity to show kids how bees pollinate. There are lots of

STEM

ideas on Pinterest to instruct you how to do this fun activity.
Have fun in the kitchen with the kids using Honey which bees make. Honey Biscuits, Honey Joys, Honey Buns, or even Honey Sandwiches are simple treats that you can find recipes for on the web. Then of course you could have a picnic in the garden and count the bees.
To download or print using the above links:
* Planet Designs Kids Free Downloads (on our website) - click the "Planet Designs Kids Free Downloads" link and it will take you to the free downloads page on our website. Put in your email address and you'll have free access to all of our free colouring activities. Click "Continue", then on the page you want click "Download", and it will then be saved in your downloads folder where you can print it.