Continents at Christmas colouring page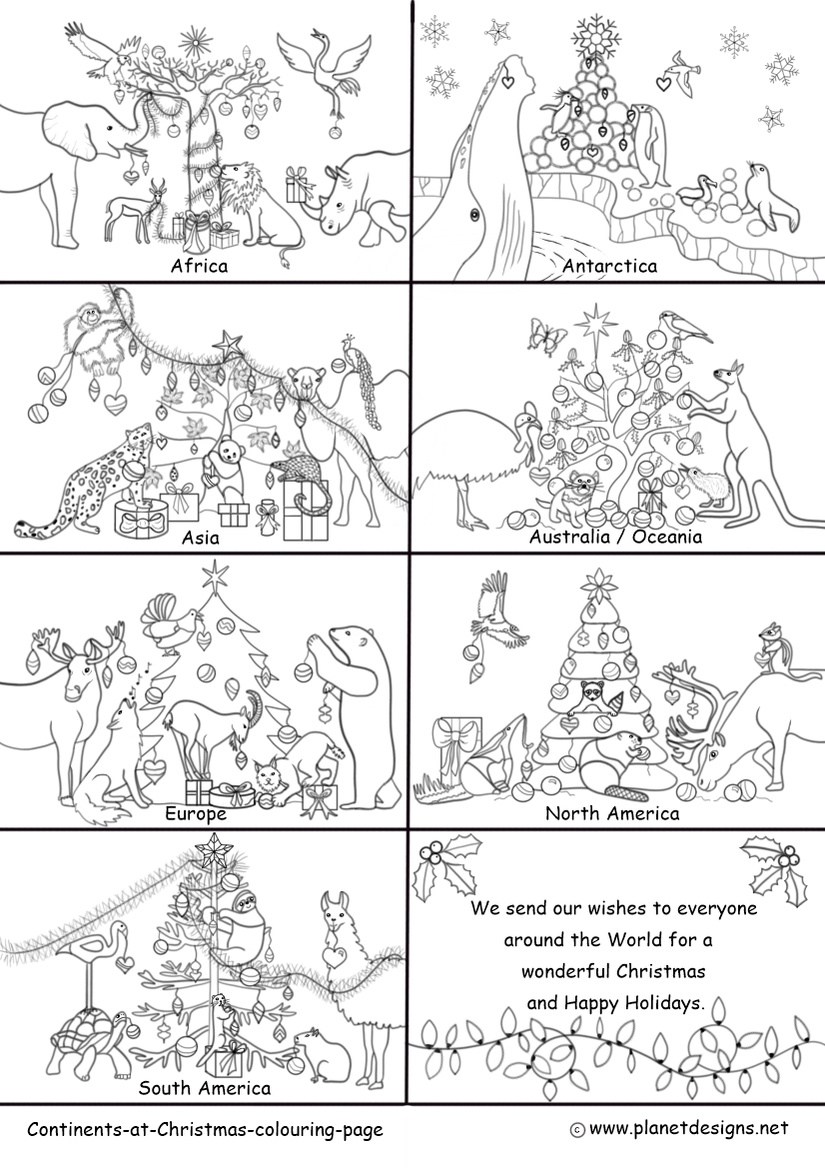 For December we've created a free colouring page of 7 Continents of the World celebrating Christmas. Each continent has a native tree decorated as a Christmas tree, with native animals surrounding it.
Below are the continents along with the types of tree and native animals you'll find to colour:
Africa: Tree - Baobab / Animals - White Rhinoceros, African Elephant, Blue Crane, African Fish Eagle, Springbok, African Lion.
Antarctica: Tree - There are no trees so we made one out of snow. / Animals - Amsterdam Albatross, Fur Seal, Humpback Whale, Emperor Penguin, Macaroni Penguin, Antarctic Petrel.
Asia: Tree - Maple / Animals - Giant Panda, Sunda Pangolin, Sumatran Orangutan, Bactrian Camel, Peacock, Snow Leopard.
Australia/Oceania: Tree - Banksia / Animals - Papilio Ulysses Butterfly, Cassowary, Tasmanian Devil, Kiwi, Collared Lory, Red Kangaroo.
Europe: Tree - Norway Spruce / Animals - Alpine Ibex, Polar Bear, Moose, Gray Wolf, Capercaillie, Eurasian Lynx.
North America: Tree - Douglas Fir / Animals - Eastern Chipmunk, North American Beaver, California Condor, North American Raccoon, Reindeer, Anteater.
South America: Tree - Monkey Puzzle / Animals - Llama, Andean Flamingo, Three-Toed Sloth, Giant Otter, Galapagos Giant Tortoise, Capybara.
Click the link to download this colouring activity from Planet Designs Kids Free Downloads on our website or on our Pinterest account.
Here are some idea's on how to extend this colouring activity further:
Discuss what hemisphere each continent is located in on the globe.
Discuss what season each continent would be in at Christmas time, and the possible weather they would have.
Research each animal we have drawn: where does it live in that continent, what food does it eat, what habitat does it live in, what threatens its survival, are they increasing in numbers or declining?
Discuss what animals pictured your children/students have seen in real life and where they saw them eg wild, zoo.
Cut out each colouring picture and stick it on a folded piece of card stock to create your own home made Christmas cards. Use these with family and friends or perhaps use this as a community outreach. For example give them to residents of an aged care home in your area to brighten their Christmas.
Make a cross continent connection by finding a school/children's group, on different continents to exchange Christmas wishes/hand drawn cards with (either original cards via post or scan, email, and print off at destination to keep costs down).
Discuss how millions of years ago all the continents were actually one huge continent called Pangaea surrounded by one ocean called Panthalassa.
Study how Pangaea broke apart into the separate continents we know today.
Study what oceans/seas surround each continent now.

Draw the continents. Place stickers on what country your children/students live, what countries your children/students ancestors came from.
Research what traditional food is served in different continents at festive celebrations & perhaps try cooking some of them.
We hope you enjoy this Christmas activity and send you wishes of peace and happiness this Christmas, from the team at Planet Designs Kids.
To download or print using the above links:
* Planet Designs Kids Free Downloads (on our website) - click the "Planet Designs Kids Free Downloads" link and it will take you to the free downloads page on our website. Put in your email address and you'll have free access to all of our free colouring activities. Click "Continue", then on the page you want click "Download", and it will then be saved in your downloads folder where you can print it.
* Pinterest - click the "Pinterest" link and it will take you to the Planet Designs Kids Pinterest account where you can find the above colouring activity, click the menu button at top of picture (3 dots … ), and select "Download Image", it will then be saved in your downloads folder where you can print it.