Seeds and packets colouring activity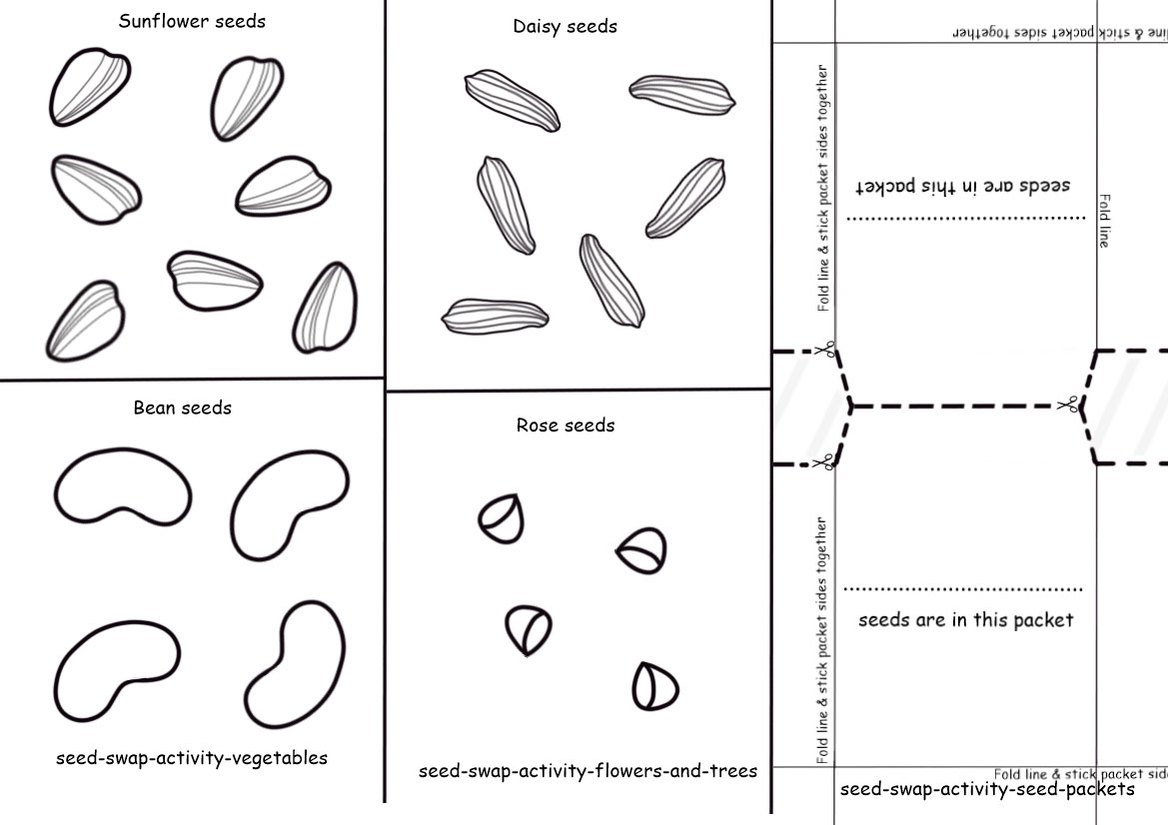 A free x 3 page "Seed Swap" colouring and craft activity to celebrate "Seed Swap Day" on 29th January 2022.
Collecting and swapping the seeds of plants and vegetables that have given biodiversity to our gardens and food to our tables is a wonderful way to share what we have with others. And guess what? People even swap crops as well! Any over abundance from your home grown veggie patch can be swapped for another vegetable or fruit in return. Both of these swapping events encourage community, sustainability, biodiversity, and reduction of waste.
Page 1 - Has 6 different types of Vegetable Seeds to colour and cut out: Sunflower, Corn, Pea, Bean, Wheat & Pumpkin.
Page 2 - Has 4 different types of Flower Seeds: Daisy, Poppy, Rose, Marigold, and 2 different types of Tree Seeds: Oak and Maple, to colour & cut out.
Page 3 - Has 4 Seed Packets to cut out, fold & sticky tape or glue together. You'll need to print 3 x Seed Packet pages for the 12 different seed types.
The seeds we 've included are the actual shape but enlarged to make it easier to cut out & play with. Once made, the seeds can be sorted into alike colours or shapes and put into the seed packets with their name written on the front. You can then use them in play to have your own pretend Seed Swap. For a more tactile sorting activity fill the packets with different dried produce that you could dye into different colours eg Dried Peas / Lentils, Rice, or Oats.
Click the link to download this colouring activity from Planet Designs Kids Planet Designs Kids Free Downloads on our website or on our Pinterest account.

To download or print using the above links:
* Planet Designs Kids Free Downloads (on our website) - click the "Planet Designs Kids Free Downloads" link and it will take you to the free downloads page on our website. Put in your email address and you'll have free access to all of our free colouring activities. Click "Continue", then on the page you want click "Download", and it will then be saved in your downloads folder where you can print it.
* Pinterest - click the "Pinterest" link and it will take you to the Planet Designs Kids Pinterest account where you can find the above colouring activity, click the menu button at top of picture (3 dots … ), and select "Download Image", it will then be saved in your downloads folder where you can print it.